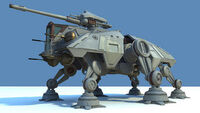 The AT-TE is a six-legged walker that appears in Attack of the Clones, Revenge of the Sith, and The Clone Wars multimedia campaign.
Origin and design
Edit
Conceived by Ryan Church as a predecessor to the AT-AT, the AT-TE's animation for Attack of the Clones was supervised by Rob Coleman.[1] Tom St. Amand, who worked on the AT-AT scenes in The Empire Strikes Back, provided his experience to create a similar appearance for the AT-TE.[1]
Depiction
Edit
AT-TEs are depicted as assault vehicles that appear at the Battle of Geonosis, as depicted in Attack of the Clones and various Clone Wars media. It has magnetic feet, which allows it to scale steep embankments if they are magnetic, like the mesa on Teth Star Wars: The Clone Wars. The six legs and overall flexibility reduce its speed, but increase its mobility and stability; moreover, its low speed allows it to walk through energy shields.[2][3] The vehicles are fixed with laser turrets, a powerful projectile cannon, and heavy electromagnetic armor.[2][3] AT-TEs are manufactured by Rothana Heavy Engineering, a subdivision of Kuat Drive Yards (who manufacture many of the other walkers).[4][5]
References
Edit
| | |
| --- | --- |
| | This page uses content from the English Wikipedia. The original article was at Walker (Star Wars). The list of authors can be seen in the page history. As with Lucasfilm Wiki, the text of Wikipedia is available under the GNU Free Documentation License. |
Ad blocker interference detected!
Wikia is a free-to-use site that makes money from advertising. We have a modified experience for viewers using ad blockers

Wikia is not accessible if you've made further modifications. Remove the custom ad blocker rule(s) and the page will load as expected.