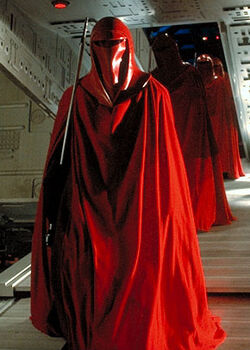 Royal Guards are fictional characters in the Star Wars universe.[1] They appear in Star Wars Episode VI: Return of the Jedi (1983) and in the third prequel film, Star Wars Episode III: Revenge of the Sith (2005). Royal Guards have been merchandised into action figures and miniatures, and their backstory expanded upon in such works as Dark Horse Comics' Crimson Empire series.
Concept and development
Edit
Although Lucasfilm concept artist Nilo Rodis-Jamero created several designs for the Royal Guards, their crimson color remained consistent.[2] Rodis-Jamero's designs ranged from "centurion-like warriors to priest-like monks".[2]
Jay Shuster based the Senate Guards' appearance in Star Wars Episode I: The Phantom Menace on the Royal Guards.[3] Shuster humanized the Senate Guards by exposing their faces, and he gave them a plume for a classical appearance.[3] Although originally intended to be predecessors to the Royal Guards, Star Wars Episode II: Attack of the Clones shows the two types of guards to be contemporaneous.[3] No longer needing to suggest the Senate Guards' progression into Royal Guards, costume prop supervisor Ivo Coveney removed the Senate Guards' plume and added a visor to their helmet for Revenge of the Sith.[3]
Depiction
Edit
When Palpatine becomes chancellor of the Galactic Republic, he phases out the Senate Guards in preference for his own Royal Guards.[4] Once Palpatine creates the Galactic Empire with himself as Emperor, the Royal Guards accompany him at all times.[5] Guardsman Kir Kanos is the anti-hero in Dark Horse's Crimson Empire comics.[6]
Royal Guards are chosen from among the Empire's stormtroopers, and Guards regularly cycle back into the stormtrooper corps to maintain their battle readiness.[7] Candidates for Royal Guard training are evaluated for their size, strength, intelligence, and loyalty;[5] those chosen for training are assessed for their combat reflexes and stamina, and they receive training in a wide range of armed and unarmed combat.[7][8] Guards' crimson robes conceal armor more advanced than stormtrooper armor.[5][8]
In other Star Wars media
Edit
The Royal Guards are enemies and playable characters in the video games Lego Star Wars II: The Original Trilogy and Lego Star Wars: The Complete Saga. They are also playable in Lego Star Wars III: The Clone Wars.
References
Edit
↑ Fernando Bueno, "Imperial Royal Guard," Star Wars: The Force Unleashed Prima Official Game Guide (Roseville: Prima Games, 2008), 13.
↑ 2.0 2.1 Emperor's Royal Guards (Behind the Scenes). Star Wars Databank. Lucasfilm. Retrieved on April 27, 2008.
↑ 3.0 3.1 3.2 3.3 Senate Guard (Behind the Scenes). Star Wars Databank. Lucasfilm. Retrieved on December 9, 2007.
↑ Senate Guard (The Movies). Star Wars Databank. Lucasfilm. Retrieved on April 27, 2008.
↑ 5.0 5.1 5.2 Emperor's Royal Guards (The Movies). Star Wars Databank. Lucasfilm. Retrieved on April 27, 2008.
↑ Kanos, Kir (Behind the Scenes). Star Wars Databank. Lucasfilm. Retrieved on April 27, 2008.
↑ 7.0 7.1 Gorden, Greg (1993). Star Wars Imperial Sourcebook, 2nd edition, West End Games. ISBN 0-87431-210-8.

 
External links
Edit
| | |
| --- | --- |
| | This page uses content from the English Wikipedia. The original article was at Emperor's Royal Guard. The list of authors can be seen in the page history. As with Lucasfilm Wiki, the text of Wikipedia is available under the GNU Free Documentation License. |
Ad blocker interference detected!
Wikia is a free-to-use site that makes money from advertising. We have a modified experience for viewers using ad blockers

Wikia is not accessible if you've made further modifications. Remove the custom ad blocker rule(s) and the page will load as expected.