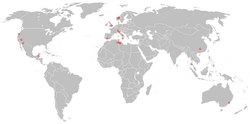 Multiple global locations were used between 1976 and 2003 for filming locations during the production of the first six Star Wars films to provide the setting for alien planets in the Star Wars Universe.
Most locations were used to shoot principal photography with actors; more recently as digital filmmaking has become more common, some prequel trilogy locations were shot with no actors present and digitally composited into the films to provide a backdrop of a story setting.
Listed below are locations used for filming of the following Star Wars films:
In addition to filming locations, a list of film studios is also included for reference.
Location filming
Edit
Image
Location
Country
Episode
Setting
Notes




Ksar Hadada, Ghoumrassen
Tunisia
I
Tatooine: Mos Espa slave quarters
[1]
Ksar Ouled Soltane
Tunisia
I
Tatooine: Mos Espa slave quarters
30km south of Tataouine[1]
Onk Jemal, Tozeur
Tunisia
I
Tatooine desert
Location of the lightsabre duel between Qui-Gonn Jinn & Darth Maul; Mos Espa[1]
Palace of Caserta
Italy
I, II
Naboo Royal Palace
[2]
Whippendell Woods, Cassiobury Park, Watford
UK
I
Naboo forest scene
First meeting of Qui-Gon Jinn and Obi-Wan Kenobi with Jar Jar Binks.[3][4]
Plaza de España in Seville
Spain
II
Naboo: City of Theed
[5]




Villa del Balbianello
Italy
II
Naboo lakeside
used for Anakin and Padmé's wedding scene overlooking Lake Como [6]
Matmata
Tunisia
II, IV
Tatooine: Lars Homestead
Used for courtyard shots and Lars dinner scene. The homestead also featured in Attack of the Clones[7][1]
Phang Nga Bay, near Phuket
Thailand
III
Kashyyyk
Ariel footage of limestone karst mountains which was later composited into the film for the approach over the Battle of Kashyyyk [8]
Guilin
China
III
Kashyyyk
Footage of limestone karst mountains which was later composited into the film for the backdrop of Kashyyyk[9]
Mount Etna
Italy
III
Mustafar
The volcano erupted during filming of Episode III and Lucasfilm sent camera crews to shoot several angles of the eruption; footage was later composited into the background of the scenes set on Mustafar including the lightsaber duel of Obi-Wan Kenobi and Anakin Skywalker.[10][11]
Grindelwald
Switzerland
III
Alderaan
Footage of mountain scenery which was later composited into the film for the backdrop of the planet Alderaan[12]




Chott el Djerid, near Nefta
Tunisia
IV
Tatooine desert and Lars homestead
Area west of Nefta: chott used for the Lars homestead[1]
La Grande Dune, near Nefta
Tunisia
IV
Tatooine desert
Sand dunes west of Nefta used to film the landing area of the escape pod of C-3PO and R2-D2[13][1] [14]
Tikal
Guatemala
IV
Yavin IV Rebel Base
[15][16]


Death Valley National Park
USA
IV
Tatooine desert

Several Tatooine scenes:[15][17]

Mesquite Flat Sand Dunes - scene where C3P0 and R2D2 crash in the escape pod on Tatooine
Artists Palette & Golden Canyon - Canyon where R2D2 is abducted by Jawas (spliced with footage shot at Sidi Bouhlel, Tunisia)
Desolation Canyon - Canyon where Tusken Raiders attack Luke Skywalker (spliced with Sidi Bouhlel footage)
Dante's View - panoramic establishing shot of Mos Eisley (spliced with Sidi Bouhlel footage of Luke and Obi-Wan standing on rocky outcrop)

Ajim, Island of Djerba
Tunisia
IV
Tatooine: Mos Eisley Spaceport
Scenes shot in the town include the exterior of the Mos Eisley Cantina. An old mosque outside the town was used for exterior shots of Obi-Wan Kenobi's house[1]
Sidi Jemour, Island of Djerba
Tunisia
IV
Tatooine: Tosche Station
Location for the deleted exterior scenes with Luke and Biggs Darklighter; also used in as a backdrop the special edition for the scene showing Luke's landspeeder heading towards to Mos Eisley[1][18]
Shubiel Gorge, Sidi Bouhlel (or Sidi Bou Helal), near Tozeur
Tunisia
IV
Tatooine canyon

Several Tatooine scenes: [19][13]




Hardangerjøkulen Glacier
Norway
V
Hoth
Exterior scenes during the battle of Hoth[20]




Twenty-Mule Team Canyon, Death Valley, California
USA
VI
Tatooine: Road to Jabba's Palace
C-3P0 and R2D2 walk up to the Palace of Jabba the Hut on Tatooine
Buttercup Valley, Yuma Desert
USA
VI
Tatooine exteriors

Location used for the Great Pit of Carkoon scene [21][22]
Additional footage for the special edition of A New Hope of stormtroopers finding evidence of droids was shot here and cut in with original shots from La Grande Dune, Tunisia [23][24]

Redwood National and State Parks
USA
VI
Endor forest scenes
[23]
Behind-the-scenes documentaries:
External links
Edit
References
Edit
Ad blocker interference detected!
Wikia is a free-to-use site that makes money from advertising. We have a modified experience for viewers using ad blockers

Wikia is not accessible if you've made further modifications. Remove the custom ad blocker rule(s) and the page will load as expected.