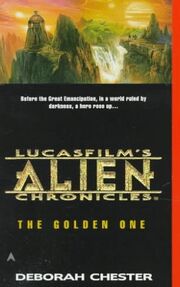 The Golden One
is the first book in the
Alien Chronicles
trilogy.
Ampris thought her gladiator days were behind her until she discovered the truth behind the enslavement of the Aarouns under the Viis--causing her to take up arms against tyranny one final time.
Ad blocker interference detected!
Wikia is a free-to-use site that makes money from advertising. We have a modified experience for viewers using ad blockers

Wikia is not accessible if you've made further modifications. Remove the custom ad blocker rule(s) and the page will load as expected.